Unlike THC (delta-9-tetrahydrocannabinol), CBD (cannabidiol) does not activate the cannabinoid type 1 (CB1) and cannabinoid type 2 (CB2) receptors. This may explain its lack of psychotropic effects. CBD OIL provides mood and sleep support, has anti-inflammatory properties, relieves minor pain, combats nausea and provides stress relief.
Per 0,5 ml:
Cannabidiol (CBD) 20,0 mg
YOU MIGHT ALSO BE INTERESTED IN
Finding the correct products for your needs is the first step. Take our health questionnaire to find the Solal products suggested for you based on your answers.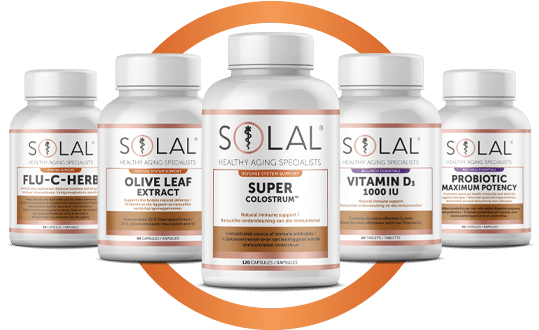 WE ARE THE LEADER IN HEALTHY AGING
SOLAL® knows that an increasing number of people are adopting holistic wellness lifestyles and seeking alternative solutions that go beyond what conventional pharmaceutical medicines can offer.
QualiSafe is unique to SOLAL®, for peace of mind that your family is getting the best quality health and wellness products that money can buy.