Gout is a type of arthritis caused by an accumulation of uric acid in the joints which causes inflammation, pain and swelling, especially in the toes, feet, ankles, hands and wrists. Gout Relief™ contains tart cherry powder which is a natural anti-inflammatory. It also inhibits an enzyme called xanthine oxidase which is responsible for the formation of uric acid. Gout Relief™ is more effective if used regularly, to prevent gout attacks, than to treat an acute gout attack.
Active ingredients: Tart Cherry Powder (Prunus Cerasus L.)
YOU MIGHT ALSO BE INTERESTED IN
Finding the correct products for your needs is the first step. Take our health questionnaire to find the Solal products suggested for you based on your answers.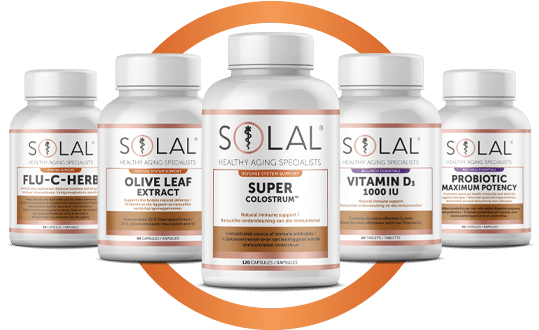 WE ARE THE LEADER IN HEALTHY AGING
SOLAL® knows that an increasing number of people are adopting holistic wellness lifestyles and seeking alternative solutions that go beyond what conventional pharmaceutical medicines can offer.
QualiSafe is unique to SOLAL®, for peace of mind that your family is getting the best quality health and wellness products that money can buy.