Omega-3 Double Strength™ is rich in two essential omega-3 fats, eicosapentaenoic acid (EPA) and docosahexaenoic acid (DHA), which are important for general health, a healthy cardiovascular system, cognitive function and eye health. A concentrated fish oil formula rich in essential EPA and DHA omega-3 fatty acids to help reduce inflammation and assist with joint and mobility support and provide antithrombotic effects.
Active ingredients: Fish oil (concentrate) consisting of: Eicosapentaenoic acid (EPA), Docosahexaenoic acid (DHA), Vitamin E (DL-alpha tocopheryl acetate).
YOU MIGHT ALSO BE INTERESTED IN
Finding the correct products for your needs is the first step. Take our health questionnaire to find the Solal products suggested for you based on your answers.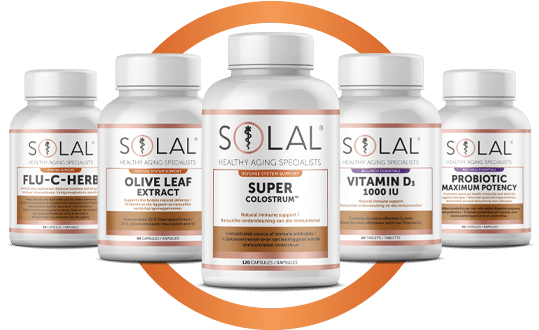 WE ARE THE LEADER IN HEALTHY AGING
SOLAL® knows that an increasing number of people are adopting holistic wellness lifestyles and seeking alternative solutions that go beyond what conventional pharmaceutical medicines can offer.
QualiSafe is unique to SOLAL®, for peace of mind that your family is getting the best quality health and wellness products that money can buy.