PURE WHEY PROTEIN CONCENTRATE VANILLA
Pure Whey Protein contains all the essential amino acids in higher concentrations than soya and vegetable protein sources. Whey protein, an important micronutrient, is one of the best absorbed and utilised proteins by the body and is used for cleansing and detoxification. Adequate intake is essential for proper wound healing. Elderly adults may require higher intake levels due to poorer utilisation. Failure to meet protein needs may negatively affect immune function and recovery from medical complications. Individuals competing in endurance sports or weight training generally require higher protein consumption than the typical daily requirement.
Active ingredients: Whey protein concentrate (cross-flow microfiltered), lecithin, flavourants, sucralose.
YOU MIGHT ALSO BE INTERESTED IN
Finding the correct products for your needs is the first step. Take our health questionnaire to find the Solal products suggested for you based on your answers.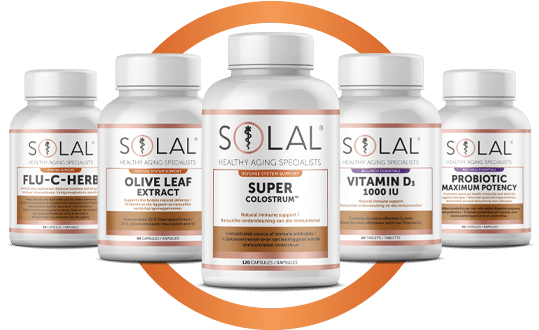 WE ARE THE LEADER IN HEALTHY AGING
SOLAL® knows that an increasing number of people are adopting holistic wellness lifestyles and seeking alternative solutions that go beyond what conventional pharmaceutical medicines can offer.
QualiSafe is unique to SOLAL®, for peace of mind that your family is getting the best quality health and wellness products that money can buy.