Enhances cognitive ability and promotes brain health.
A superior form of carnitine. It catalyses the conversion of energy sources into usable energy, essential to keep cells alive. ALC is particularly important for energising and protecting the heart and brain. ALC is useful for helping to prevent age-related memory decline. Acetyl-L-Carnitine is an amino acid (a building block for proteins) that is naturally produced in the body. It helps the body produce energy. It is important for heart and brain function, muscle movement, and many other physiological processes.
Sugarfree. Suitable for vegetarians
Acetyl-L-Carnitine hydrochloride (Providing: 423,95 mg N-Acetyl-L-Carnitine), Magnesium stearate, silicone dioxide, vegetarian capsule shell (hypromellose cellulose).
YOU MIGHT ALSO BE INTERESTED IN
Finding the correct products for your needs is the first step. Take our health questionnaire to find the Solal products suggested for you based on your answers.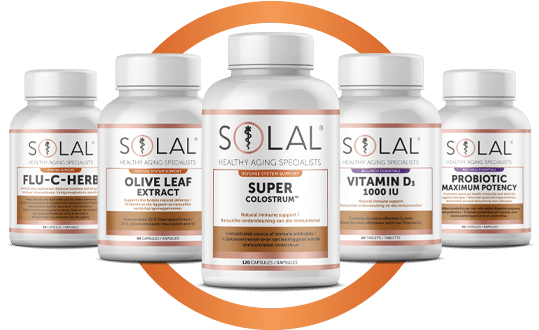 WE ARE THE LEADER IN HEALTHY AGING
SOLAL® knows that an increasing number of people are adopting holistic wellness lifestyles and seeking alternative solutions that go beyond what conventional pharmaceutical medicines can offer.
QualiSafe is unique to SOLAL®, for peace of mind that your family is getting the best quality health and wellness products that money can buy.