Rich in HCA which limits the synthesis of fatty acids and cholesterol. Contributes to the maintenance of normal blood sugar levels by assisting the body to metabolise carbohydrates and sugar. Helps to temporarily increase the feeling of fullness.
Per caplet:
Garcinia cambogia (Garcinia extract) 415,8 mg [fruit rind, 693,0 mg as 60% HCA];
Chromium polynicotinate 70,0 µg providing Chromium 8,4 µg.
YOU MIGHT ALSO BE INTERESTED IN
Finding the correct products for your needs is the first step. Take our health questionnaire to find the Solal products suggested for you based on your answers.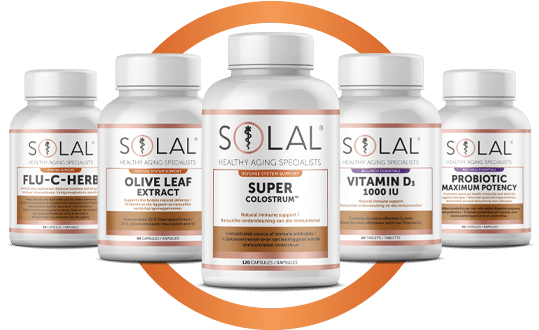 WE ARE THE LEADER IN HEALTHY AGING
SOLAL® knows that an increasing number of people are adopting holistic wellness lifestyles and seeking alternative solutions that go beyond what conventional pharmaceutical medicines can offer.
QualiSafe is unique to SOLAL®, for peace of mind that your family is getting the best quality health and wellness products that money can buy.