Protect yourself during high risk times
We all know vitamin C is important for immune function but do you know about these equally important immune-boosting and virus fighting supplements?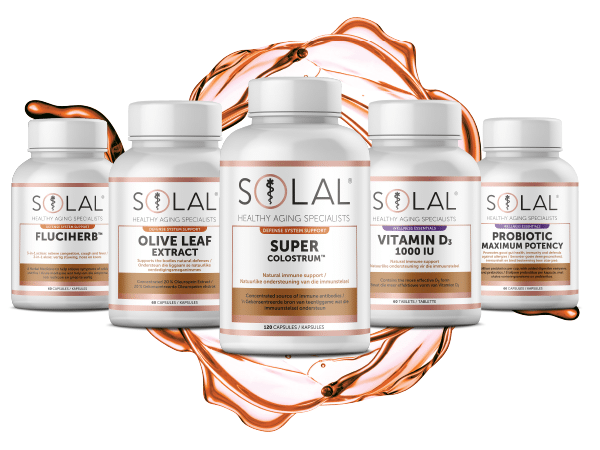 STAY WELL WITH SOLAL® – IMMUNITY EDITION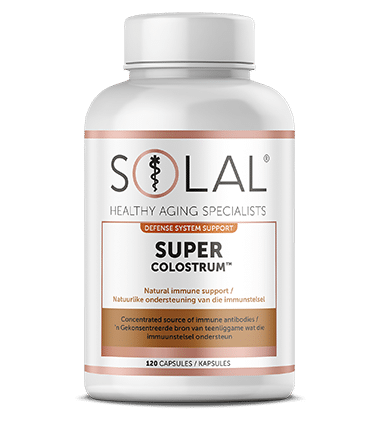 SOLAL® SUPER COLOSTRUM™
Colostrum can help reduce flu symptoms by 70% to 75%28 and it may be up to 3 times more effective than the flu vaccination at preventing flu28. Daily supplementation with colostrum supports a healthy, balanced immune system25,32 which in turn helps protect against influenza and other viruses28,33. Additionally, colostrum has direct respiratory virus killing effects31. Colostrum is one of the most important supplements to take if you are older or have a weaker immune system to help protect against respiratory diseases.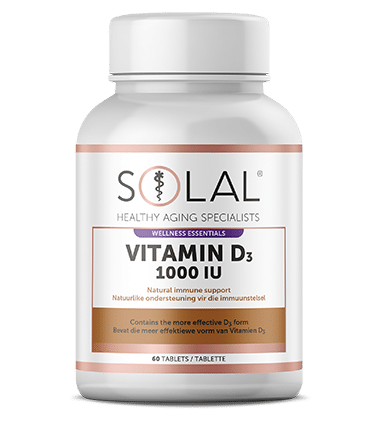 SOLAL® VITAMIN D3
A lack of vitamin D is one of the main reasons that lung viruses cause more harm in winter27. Exposure to direct, bright sunlight is required to make vitamin D22. Vitamin D is a powerful immune booster25. Vitamin D also improves lung function and reduces lung inflammation which is important during times of respiratory diseases and infections23,24.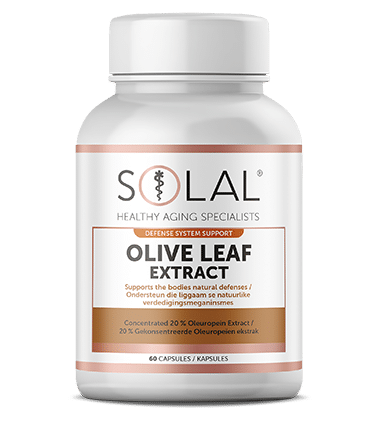 SOLAL
®
 OLIVE LEAF EXTRACT
Olive leaf activates immune responses36 needed to fight infections34,35 and helps prevent inflammation36 that can lead to lung congestion disease34,35 such as pneumonia. SOLAL® Olive Leaf Extract contains a high 20% concentration of oleuropein, a natural respiratory virus-killing34,35 plant chemical.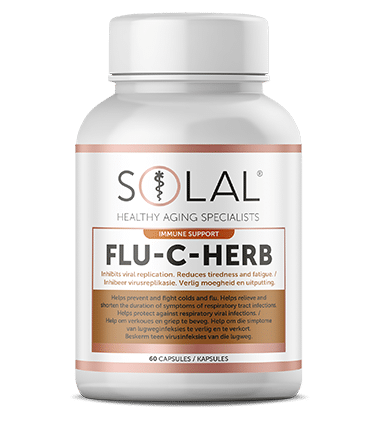 SOLAL
®
 FLUCIHERB
SOLAL® Fluciherb boosts the immune system and alleviates symptoms associated with colds and flu. It contains vitamin C and Zinc for healthy
immune function, Elderberry to help relieve fever, symptoms of cold and flu (such as coughs & sore throats) and nasal congestion, Andrographis, a herbal extract that reduces the duration and symptoms of colds and flu and Propolis for antibacterial effects.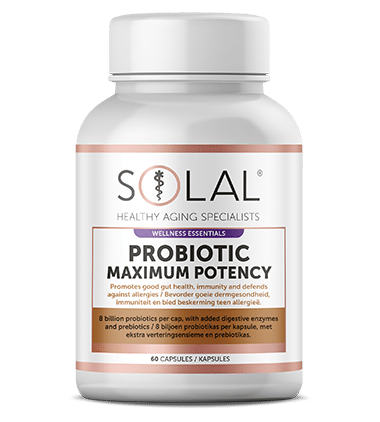 SOLAL
®
 PROBIOTIC MAXIMUM POTENCY
This probiotic has anti-influenza effects in adults1 and children2-3. The Lactobacillus acidophilus type of probiotic also has antiviral activity4 and it boosts the body's natural immunity4,8 to help prevent and fight respiratory infections3,6,9.
TIPS TO SURVIVE THE LOCKDOWN
TIP 1
How to make your own hand sanitizer and how to sanitize grocery items and packaging brought into your house during lockdown.
TIP 2
What lifestyle & dietary changes to make, to reduce risk of getting Covid-19.
TIP 3
How to make your own face mask.
TIP 4
How to cope with stress and anxiety during the lockdown.
TIP 5
Who is the most susceptible to the virus & what can these people do to reduce risk?
TIP 6
Cutting through the confusion. To have a vaccine or not? To wear a mask or not wear a mask?
TIP 7
Can vitamins help to protect me against Covid-19?
TIP 8
What to do if you or if someone you live with has symptoms of Covid-19?
TIP 9
What precautions to take now that you are leaving the house?
TIP 10
What exactly is a virus?