Stressed? Anxious? Depressed? Tired? Insomnia
Are your feeling stressed from having to juggle, work and finances in the wake of the global pandemic, or struggling to switch off and sleep well? Whether you're multi-tasking as besets as you can or feeling lonely from isolation, stress affects everyone differently and if not managed, can have a serious impact on your health. SOLAL® CBD Drops, Sleep Naturally, Stree Damage Control, Burnout and 5-HT1 can help you adjust to a new way of life. Mind. Body. Solal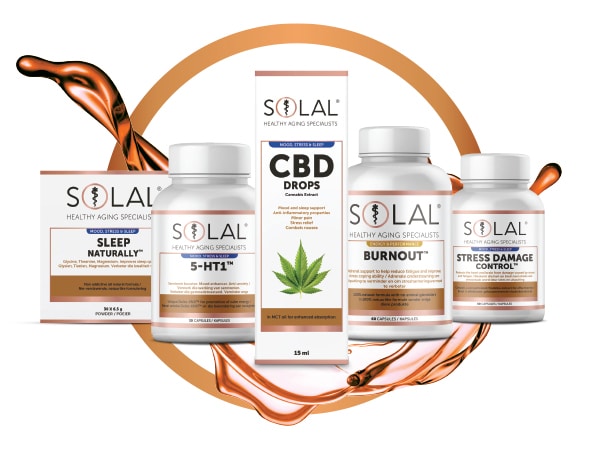 STAY WELL WITH SOLAL – STRESS EDITION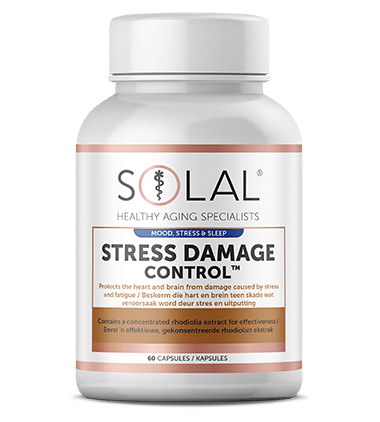 SOLAL® STRESS DAMAGE CONTROL
Stress Damage Control helps protect you from the damage that stress causes to the immune system, brain and heart. It also helps you handle stress more effectively. Stress Damage Control contains Rhodiola rosea and Ashwagandha, which are in a class of herbal medicines known as adaptogens. Adaptogens help your body adapt to stress by protecting against stress induced immune suppression and heart damage. These adaptogens also enhance brain function and coping during stressful periods.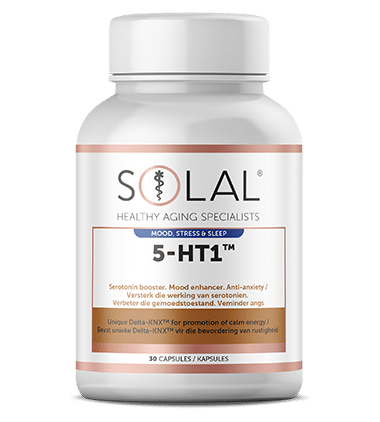 SOLAL® 5-HT1
5-HT1 enhances mood and helps fight mild depression by improving the brain's sensitivity to a mood-boosting neurotransmitter (brain hormone) called serotonin. Serotonin also helps prevent stress-induced eating, especially by reducing carbohydrate cravings. 5-HT1 is made from a unique ratio of three natural alkaloids (plant phytochemicals) extracted from the sceletium medicinal plant. 5-HT1 has four benefits: It boosts mood, helps reduce anxiety, reduces emotional overeating, and helps relieve fearfulness by reducing activity in the amygdala, the part of the brain that responds to perceived threats.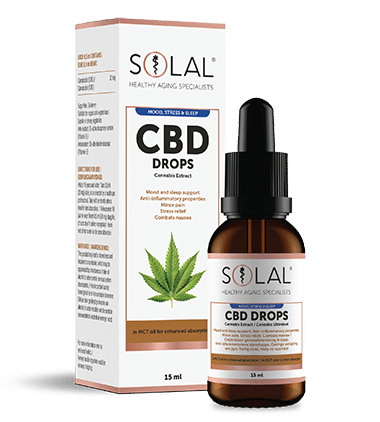 SOLAL® CBD OIL
CBD (cannabidiol) oil is a non-addictive extract from the cannabis plant. It enhances the stress-relieving effects of the body's naturally produced cannabis-like substances called endocannabinoids. CBD works by improving the sensitivity and responsiveness of the body's CB receptors to circulating endocannabinoids. Increased CB receptor activity is responsible for overall sense of wellbeing and calm, as well as resilience to stressful situations. SOLAL®'s CBD oil drops are more concentrated than most and contain a natural absorption enhance for better bioavailability and rapid effectiveness.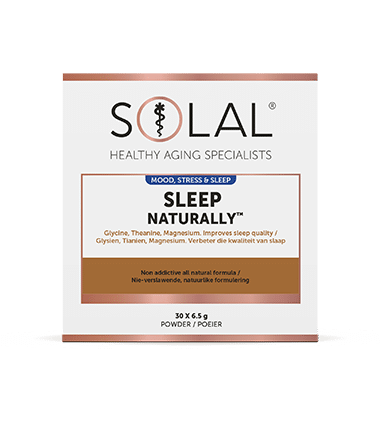 SOLAL® SLEEP NATURALLY
Sleep Naturally promotes deep restorative sleep. Not all sleep is equal. Light superficial sleep does not provide the same mental and physical healing as deep restorative sleep. Sleep Naturally contains glycine, a sleep-inducing amino acid that leaves you refreshed the next day to handle what life throws at you. It also supplies another amino acid, theanine, which enhances the brain's alpha-wave activity. Alpha waves are calming and relaxing. Additionally, Sleep Naturally contains a unique glycinate form of magnesium which is the best brain-absorbed type of magnesium. Magnesium is essential for brain calming and sleep effects.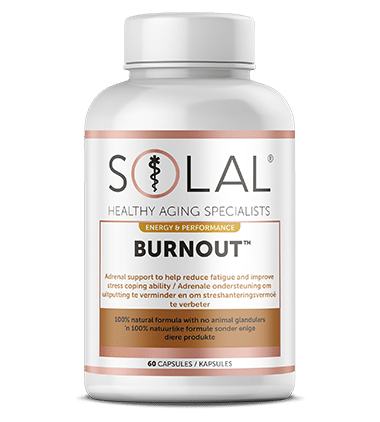 SOLAL® BURNOUT
Burnout re-energises a body and brain that has been burnt out by relentless stress. It contains fatigue-fighting herbal extracts from licorice and ginseng to nurture tired stress-fighting adrenal glands back to health. Burnout works to boost physical and mental energy during times of stress-induced exhaustion.
TIPS TO SURVIVE THE LOCKDOWN
TIP 1
How to make your own hand sanitizer and how to sanitize grocery items and packaging brought into your house during lockdown.
TIP 2
What lifestyle & dietary changes to make, to reduce risk of getting Covid-19.
TIP 3
How to make your own face mask.
TIP 4
How to cope with stress and anxiety during the lockdown.
TIP 5
Who is the most susceptible to the virus & what can these people do to reduce risk?
TIP 6
Cutting through the confusion. To have a vaccine or not? To wear a mask or not wear a mask?
TIP 7
Can vitamins help to protect me against Covid-19?
TIP 8
What to do if you or if someone you live with has symptoms of Covid-19?
TIP 9
What precautions to take now that you are leaving the house?
TIP 10
What exactly is a virus?