In the body 5-HT is converted into serotonin. Serotonin controls a variety of functions in the human body and brain. Inadequate serotonin is believed to play a role in depression and mood disturbances. Serotonin is also converted into melatonin in the pineal gland where it plays an important role in the human sleep cycle (circadian rhythm). SOLAL 5-HTP promotes healthy mood balance and sleep. Also, helps reduce cravings (such as for carbohydrates).
Active ingredient: 5-Hydroxytryptophan, Vitamin B6 (pyridoxine-5-phosphate).
YOU MIGHT ALSO BE INTERESTED IN
Finding the correct products for your needs is the first step. Take our health questionnaire to find the Solal products suggested for you based on your answers.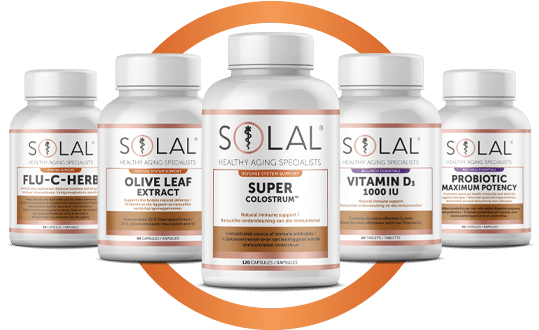 WE ARE THE LEADER IN HEALTHY AGING
SOLAL® knows that an increasing number of people are adopting holistic wellness lifestyles and seeking alternative solutions that go beyond what conventional pharmaceutical medicines can offer.
QualiSafe is unique to SOLAL®, for peace of mind that your family is getting the best quality health and wellness products that money can buy.