L-Tyrosine is an amino acid that the body produces from L-Phenylalanine. Tyrosine is needed for the production of thyroxine and melatonin. It has been suggested that the brain cannot produce enough tyrosine from L-Phenylalanine under stress. Use: Improve thyroid function, for stress management, to increase low energy levels, for increased alertness, as an appetite suppressant, and to increase sexual desire. Refer to 'instructions for use' for details on dosage for specific conditions.
YOU MIGHT ALSO BE INTERESTED IN
Finding the correct products for your needs is the first step. Take our health questionnaire to find the Solal products suggested for you based on your answers.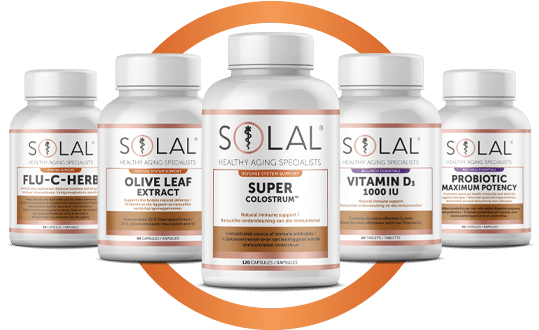 WE ARE THE LEADER IN HEALTHY AGING
SOLAL® knows that an increasing number of people are adopting holistic wellness lifestyles and seeking alternative solutions that go beyond what conventional pharmaceutical medicines can offer.
QualiSafe is unique to SOLAL®, for peace of mind that your family is getting the best quality health and wellness products that money can buy.