All You Need™ Women Ages 50+ is a comprehensive nutraceutical that combines different classes of micronutrients, specifically formulated for women ages 50+.
Per capsule:
Calcium glycinate 138,0 mg providing Calcium 26,8 mg; Magnesium glycinate 114,0 mg providing Magnesium 20,5 mg; N-Acetyl-L-Carnitine HCl 100,0 mg providing Carnitine 84,8 mg;
Ascorbic acid (Vitamin C) 40,0 mg;
Rhodiola rosea L. extract [root] 33,3 mg;
Arthrospira platensis (Spirulina) 33,3 mg; Indole-3-Carbinol Cruciferous 25,0 mg; Zinc amino acid chelate 25,0 mg providing Zinc 5,0 mg;
Polygonum cuspidatum L. (Resveratrol) [root] 16,7 mg; Co-enzyme Q10 16,6 mg;
Niacinamide Ascorbate 11,4 mg providing Niacinamide (Vitamin B3) 2,8 mg and Ascorbic acid (Vitamin C) 7,8 mg; Vitis vinifera L. (Grape Seed) [95 % Proanthocyanidins extract] 10,0 mg;
Camellia Sinensis L. (Green tea extract) [leaf] 9,5 mg; Alpha lipoic acid 9,9 mg;
Calcium-d-pantothenate (Vitamin B5) 4,0 mg; Methyl Selenocysteine 4,0 mg providing Selenium 20,0 µg;
Manganese amino acid chelate 3,3 mg providing Manganese 333,0 µg;
Copper sulphate 5 hydrate 2,7 mg providing Copper 679,5 µg;
Pyridoxine (Vitamin B6) 910,4 µg;
Riboflavin (Vitamin B2) 679,5 ug;
Thiamine pyrophosphate 900,0 µg providing Thiamine (Vitamin B1) 519,5 µg; Molybdenum amino acid chelate 400,0 µg providing Molybdenum
8,3 µg; L-5-Methyltetrahydrofolate calcium 180,0 µg providing Folate (Vitamin B9) 159,7 µg;
D-Biotin (Vitamin H) 167,0 µg;
Chromium polynicotinate 100,0 µg providing Chromium 16,2 µg;
Potassium iodate 100,0 µg providing Iodine 49,6 µg; Methylcobalamin (Vitamin B12) 29,6 µg;
Vitamin A acetate (Vitamin A) 834 IU;
Cholecalciferol (Vitamin D3) 163 IU;
Beta-carotene (Vitamin A) 138 IU;
D-Alpha-tocopheryl Acetate (Vitamin E) 10 IU.
YOU MIGHT ALSO BE INTERESTED IN
Finding the correct products for your needs is the first step. Take our health questionnaire to find the Solal products suggested for you based on your answers.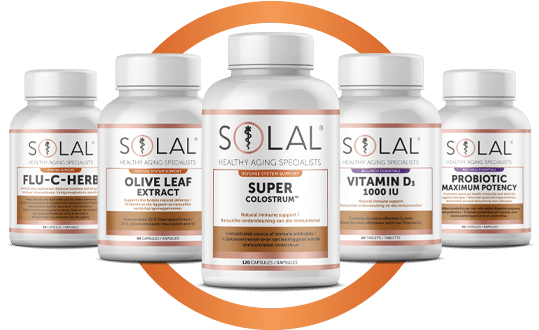 WE ARE THE LEADER IN HEALTHY AGING
SOLAL® knows that an increasing number of people are adopting holistic wellness lifestyles and seeking alternative solutions that go beyond what conventional pharmaceutical medicines can offer.
QualiSafe is unique to SOLAL®, for peace of mind that your family is getting the best quality health and wellness products that money can buy.