Contains vitamins that play a diversified role in the body including functioning as antioxidants and mediators of cell signaling, regulation, tissue growth and differentiation. Minerals are required to activate thousands of enzyme reactions within the body.
Active ingredients: Calcium ascorbate providing Ascorbic acid (Vitamin C and Calcium, Calcium glycinate providing Calcium, Niacinamide Ascorbate providing Ascorbic acid (Vitamin C), Niacinamide (Vitamin B3), Magnesium glycinate providing Magnesium, Calcium-d-pantothenate (Vitamin B5), Zinc Amino Acid Chelate providing Zinc, Inositol, Para Amino Benzoic Acid, Choline Bitartrate Providing Choline, Riboflavin (Vitamin B2), Pyridoxine (Vitamin B6), Potassium Chloride providing Potassium, Thiamine (Vitamin B1), Boron, Copper AAC providing Copper, L-5-Methyltetrahydrofolate Calcium (Folate), D-Biotin (Vitamin H, Manganese gluconate providing Manganese, Methylcobalamin (Vitamin B12), Potassium Iodate providing Iodine, Methyl Selenocysteine providing Selenium, Molybdenum amino acid chelate providing Molybdenum, Menaquinone-7 (Vitamin K2), Chromium Polynicotinate providing Chromium, Acetate (Vitamin A), Vitamin D3, D-Alpha-tocopheryl Acetate (Vitamin E).
YOU MIGHT ALSO BE INTERESTED IN
Finding the correct products for your needs is the first step. Take our health questionnaire to find the Solal products suggested for you based on your answers.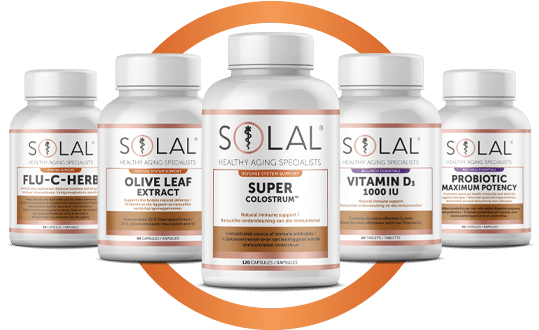 WE ARE THE LEADER IN HEALTHY AGING
SOLAL® knows that an increasing number of people are adopting holistic wellness lifestyles and seeking alternative solutions that go beyond what conventional pharmaceutical medicines can offer.
QualiSafe is unique to SOLAL®, for peace of mind that your family is getting the best quality health and wellness products that money can buy.