COLLAGEN PLUS SKIN ESSENTIALS
Collagen Plus Skin Essentials Liquicaps is a multivitamin and mineral supplement containing: Vitamin A and E – fat soluble vitamins that contribute to the maintenance of health, skin hair and nails. Zinc – a trace mineral essential for the functioning of enzymatic and cellular processes and helps with the production of sebum which is important for healthy skin and hair. Omega 3 extract from fish oil – high in EPA (Eicosapentaenoic acid) and DHA (Docosahexaenoic acid). Biotin – an essential water-soluble B vitamin used orally for hair loss and brittle nails. Collagen is the main protein of connective tissue and an essential component of skin. Silicon improves the quality of hair and nails. Astaxanthin is a skin protective antioxidant.
Active Ingredients: Fish oil 431,5 mg providing Eicosapentaenoic acid (EPA) 220,1 mg and Docosahexaenoic acid (DHA) 38,8 mg, Collagen 50,0 mg
Zinc sulphate 27,8 mg Providing Zinc 0,3 mg
Astaxanthin 5% 22,0 mg Providing, Astaxanthin 1,1 mg
Bambou extract (Silica) 3,6 mg
Biotin (Vitamin H) 60,0 µg
Retinol (Vitamin A palmitate) 3500 IU
D-alpha-tocopherol (Vitamin E) 3 IU
YOU MIGHT ALSO BE INTERESTED IN
Finding the correct products for your needs is the first step. Take our health questionnaire to find the Solal products suggested for you based on your answers.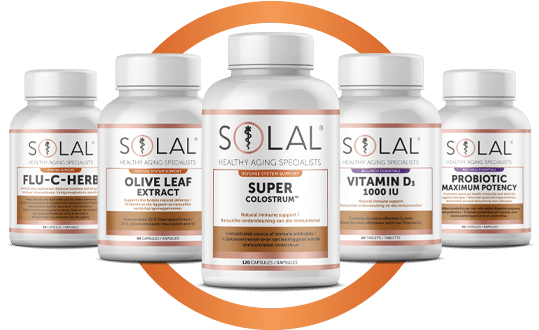 WE ARE THE LEADER IN HEALTHY AGING
SOLAL® knows that an increasing number of people are adopting holistic wellness lifestyles and seeking alternative solutions that go beyond what conventional pharmaceutical medicines can offer.
QualiSafe is unique to SOLAL®, for peace of mind that your family is getting the best quality health and wellness products that money can buy.