SOLAL® Double Vitamin C™ capsules contain ascorbic acid in both the water-soluble and fat-soluble forms. The combination of fat-soluble and water-soluble ascorbic acid allows for better retention by the body and shows marked synergy. Ascorbic acid is a factor in the maintenance of good health that aids the body in maintaining the following functions: Contributes to iron absorption from food, helping to maintain the normal function of the immune system during and after intense physical stress, metabolising fats and proteins, yielding normal energy metabolism, cell protection from free radicle damage and protects cells from oxidative stress. Contributes to normal collagen formation for the normal function of blood vessels, bones, cartilage, gums, skin, and teeth, to normal physiological function, immune system, and nervous system function and to the reduction of tiredness and fatigue. Contributes to the regeneration of the reduced from of Vitamin E, helps in connective tissue formation and contribute to wound healing.
Each capsule contains: Calcium Ascorbate, (Supplying 233 mg buffered water-soluble vitamin C), Ascorbyl Palmitate (Supplying 100 mg fat-soluble vitamin C ester).
YOU MIGHT ALSO BE INTERESTED IN
Finding the correct products for your needs is the first step. Take our health questionnaire to find the Solal products suggested for you based on your answers.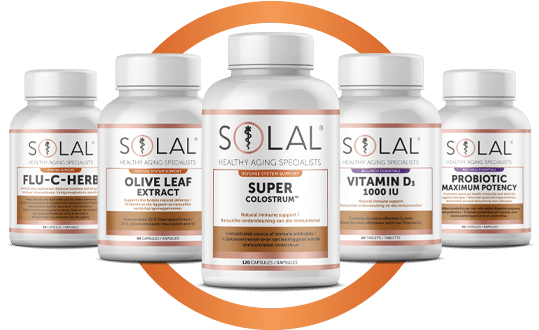 WE ARE THE LEADER IN HEALTHY AGING
SOLAL® knows that an increasing number of people are adopting holistic wellness lifestyles and seeking alternative solutions that go beyond what conventional pharmaceutical medicines can offer.
QualiSafe is unique to SOLAL®, for peace of mind that your family is getting the best quality health and wellness products that money can buy.