Vitamin D3 (cholecalciferol) is a fat-soluble vitamin synthesised in the skin through sunlight exposure. Recent research shows that not enough vitamin D is produced this way, especially with most people now staying out of the sun or applying sunblock which dramatically reduces vitamin D production. The major biological function of Vitamin D is to maintain normal blood levels of calcium and phosphorus. Vitamin D helps in the absorption of calcium and reducing urinary loss of calcium, thereby maintaining bones and teeth. Vitamin D also plays a role in immune function.
Cholecalciferol (Vitamin D3) 1000 IU
YOU MIGHT ALSO BE INTERESTED IN
Finding the correct products for your needs is the first step. Take our health questionnaire to find the Solal products suggested for you based on your answers.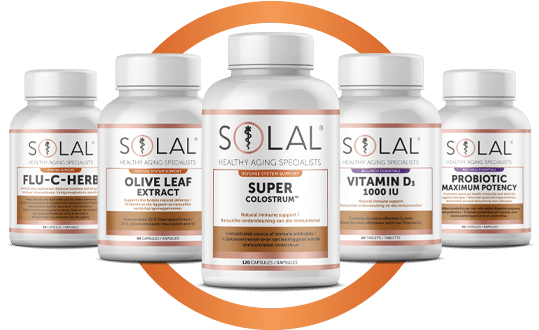 WE ARE THE LEADER IN HEALTHY AGING
SOLAL® knows that an increasing number of people are adopting holistic wellness lifestyles and seeking alternative solutions that go beyond what conventional pharmaceutical medicines can offer.
QualiSafe is unique to SOLAL®, for peace of mind that your family is getting the best quality health and wellness products that money can buy.