Fish oil is a source of eicosapentaenoic acid (EPA) and docosahexaenoic acid (DHA) in the triglyceride form. Krill oil supplies EPA and DHA in the highly absorbable form. EPA and DHA are essential fatty acids that are not made in the body and must be obtained from the diet or supplements. They play an important role in maintaining heart, brain and eye health. OMEGA-ALL (KRILL *FISH *FLAX) is an essential omega-3 fatty acid for the maintenance of good health.
Per capsule:
Fish oil 500,4 mg providing: EPA 75,0 mg and DHA 50,0 mg
Linum usitatissimum L. (Flaxseed) oil 400,0 mg providing: ALA 162,0 mg
Krill oil 100,0 mg providing: EPA 12,0 mg and DHA 5,5 mg
Tocopherol DL Alpha Acetate (Vitamin E) 4,4 mg
YOU MIGHT ALSO BE INTERESTED IN
Finding the correct products for your needs is the first step. Take our health questionnaire to find the Solal products suggested for you based on your answers.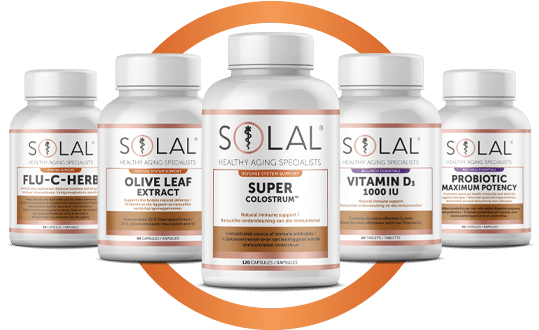 WE ARE THE LEADER IN HEALTHY AGING
SOLAL® knows that an increasing number of people are adopting holistic wellness lifestyles and seeking alternative solutions that go beyond what conventional pharmaceutical medicines can offer.
QualiSafe is unique to SOLAL®, for peace of mind that your family is getting the best quality health and wellness products that money can buy.