Colostrum (the pre-milk fluid produced by mammals during the first few days after birth) is a major source of immunoglobulins that are delivered orally to support the immune system to kill bacteria and viruses. Colostrum might also be beneficial in improving peak anaerobic power and exercise performance. Colostrum contains growth factors, cytokines, hormones, and other biologically active components that might improve growth and repair of the gastrointestinal system.
Each capsule contains: Bovine Colostrum 525,0 mg per capsule.
YOU MIGHT ALSO BE INTERESTED IN
Finding the correct products for your needs is the first step. Take our health questionnaire to find the Solal products suggested for you based on your answers.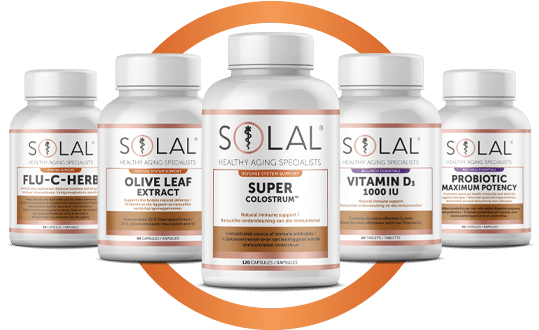 WE ARE THE LEADER IN HEALTHY AGING
SOLAL® knows that an increasing number of people are adopting holistic wellness lifestyles and seeking alternative solutions that go beyond what conventional pharmaceutical medicines can offer.
QualiSafe is unique to SOLAL®, for peace of mind that your family is getting the best quality health and wellness products that money can buy.