Curcumin is an antioxidant which exerts multiple benefits throughout the body, including suppressing pro-inflammatory chemicals. Curcumin is usually poorly absorbed from the gastrointestinal tract. However NovaSOL® solubilising nanotechnology gives curcumin unique properties resulting in faster absorption and 185 times improved bioavailability. Curcumin seems to have anti-inflammatory activity, possibly by inhibiting cyclooxygenase-2 (COX-2), prostaglandins, leukotrienes, and other cytokines involved in pro-inflammatory signaling pathways.
Per capsule: Curcumin – NovaSOL® 500,0 mg
YOU MIGHT ALSO BE INTERESTED IN
Finding the correct products for your needs is the first step. Take our health questionnaire to find the Solal products suggested for you based on your answers.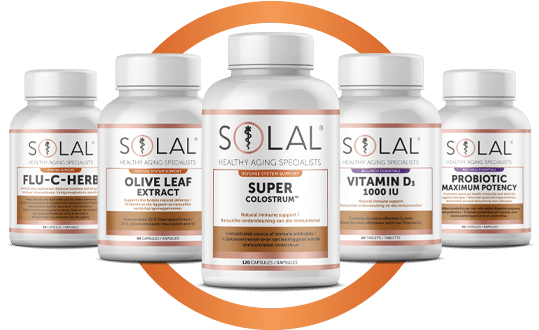 WE ARE THE LEADER IN HEALTHY AGING
SOLAL® knows that an increasing number of people are adopting holistic wellness lifestyles and seeking alternative solutions that go beyond what conventional pharmaceutical medicines can offer.
QualiSafe is unique to SOLAL®, for peace of mind that your family is getting the best quality health and wellness products that money can buy.