The anti-inflammatory effects of quercetin might be due to inhibition of the production and activity of leukotrienes and prostaglandins and inhibition of histamine release by basophils and mast cells. It has been suggested that quercetin might be useful for reducing inflammatory cytokine release and muscle damage associated with prolonged, intense exercise. Maintains good health especially during exercise.
Sophorae Japonica L. (Quercetin) [flower part] 267,0 mg; Bromelain 35,0 mg
YOU MIGHT ALSO BE INTERESTED IN
Finding the correct products for your needs is the first step. Take our health questionnaire to find the Solal products suggested for you based on your answers.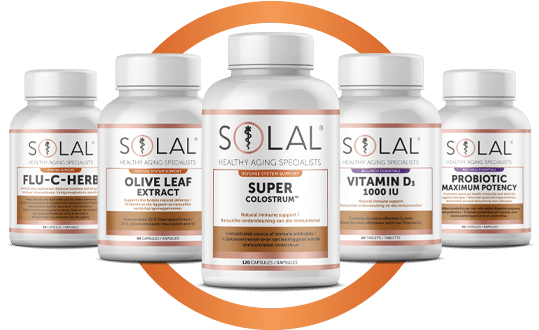 WE ARE THE LEADER IN HEALTHY AGING
SOLAL® knows that an increasing number of people are adopting holistic wellness lifestyles and seeking alternative solutions that go beyond what conventional pharmaceutical medicines can offer.
QualiSafe is unique to SOLAL®, for peace of mind that your family is getting the best quality health and wellness products that money can buy.