Glutamine enhances exercise performance, muscle growth and recovery. It aids in liver protection and detoxification, digestive complaints (irritable bowel syndrome, Crohn's disease, colitis and leaky gut syndrome) and immune system functioning. It counteracts the damaging effects of Helicobacter pylori on gastric mucosa, repairs damage caused by chemotherapy and radiation, elevates glutathione antioxidant levels, reduces sugar cravings by balancing sugar levels, aids in wound healing and tissue repair, stimulates growth hormone release, reduces alcohol cravings and liver damage, enhances mood, intelligence, learning and memory, alertness and reduces aggressiveness. It also improves stress-coping mechanisms, is beneficial in male impotence and is beneficial for autism and assisting with ADHD.
Each 3 g scoop contains: L-Glutamine 1000,0 mg
YOU MIGHT ALSO BE INTERESTED IN
Finding the correct products for your needs is the first step. Take our health questionnaire to find the Solal products suggested for you based on your answers.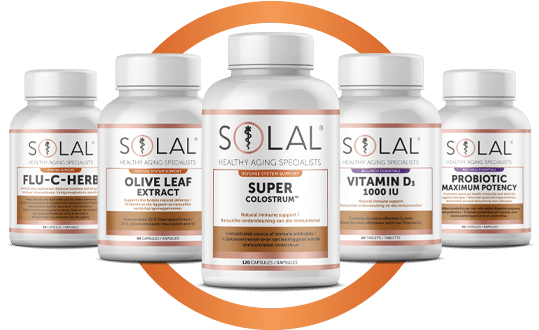 WE ARE THE LEADER IN HEALTHY AGING
SOLAL® knows that an increasing number of people are adopting holistic wellness lifestyles and seeking alternative solutions that go beyond what conventional pharmaceutical medicines can offer.
QualiSafe is unique to SOLAL®, for peace of mind that your family is getting the best quality health and wellness products that money can buy.