Hormone Balance Natural HRT is a combination complementary medicine formulate to help relieve menopausal and premenstrual symptoms including stabilising menstrual cycle irregularities and relieving symptoms associated with menopause, such as hot flushes. Hormone Balance Natural HRT also helps relieve the pain associated with menstruation and helps to prevent osteoporosis in postmenopausal women.
Per capsule:
Ipriflavone extract 300,0 mg;
Actaea racemosa L. (Black Cohosh) [root, 8:1 extract standardised to 2,5 % triterpene glycosides] 40,0 mg;
Vitex Agnus-castus (Chasteberry extract) [fruit, 4:1 extract] 5,0 mg;
Cholecalciferol (Vitamin D3) 200 IU.
YOU MIGHT ALSO BE INTERESTED IN
Finding the correct products for your needs is the first step. Take our health questionnaire to find the Solal products suggested for you based on your answers.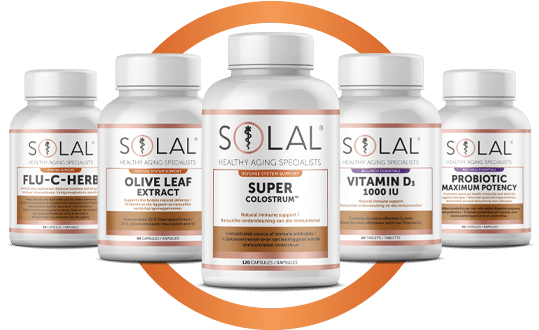 WE ARE THE LEADER IN HEALTHY AGING
SOLAL® knows that an increasing number of people are adopting holistic wellness lifestyles and seeking alternative solutions that go beyond what conventional pharmaceutical medicines can offer.
QualiSafe is unique to SOLAL®, for peace of mind that your family is getting the best quality health and wellness products that money can buy.