PROSTATE PROTECTION FORMULA
Prostate Protection Formula™ contains plant-based ingredients that support prostate health and relieve urinary symptoms. I3C, DIM and curcumin extracts support the detoxification pathways of the liver important in removing harmful metabolites. Beta-sitosterol supports urinary flow and frequency of urination and may protect against the harmful effects of excessive inflammation. Higher levels of lycopene and selenium have been positively associated with prostate health. With added piperine for enhanced absorption.
Active ingredients: I3C (Indole-3-Carbinol cruciferous vegetable extract), DIM (Di – Indole – Methane cruciferous extract) , Curcumin extract , Beta-sitosterol , Lycopene, Selenium, Bioperine.
YOU MIGHT ALSO BE INTERESTED IN
Finding the correct products for your needs is the first step. Take our health questionnaire to find the Solal products suggested for you based on your answers.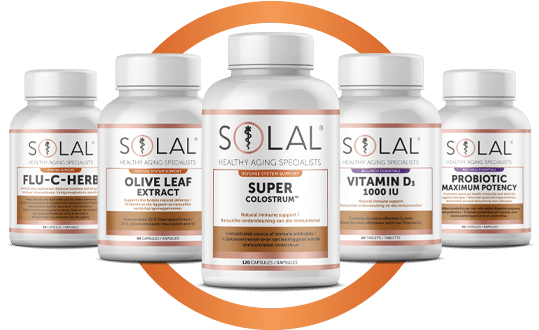 WE ARE THE LEADER IN HEALTHY AGING
SOLAL® knows that an increasing number of people are adopting holistic wellness lifestyles and seeking alternative solutions that go beyond what conventional pharmaceutical medicines can offer.
QualiSafe is unique to SOLAL®, for peace of mind that your family is getting the best quality health and wellness products that money can buy.