Additional supplements of glycine (an amino acid), can increase central nervous system (CNS) concentrations. Theanine is thought to work for stress-induced anxiety. It is also used for its relaxing and anti-anxiety effects. Magnesium helps relax muscles and is believed to block the release of excess excitatory neurotransmitters in the brain. Magnesium is also used orally for treating attention deficit-hyperactivity disorder (ADHD), anxiety and chronic fatigue syndrome (CFS).
Each sachet contains:
Glycine 1 800,0 mg;
Theanine 250,0 mg;
Magnesium 200,0 mg.
YOU MIGHT ALSO BE INTERESTED IN
Finding the correct products for your needs is the first step. Take our health questionnaire to find the Solal products suggested for you based on your answers.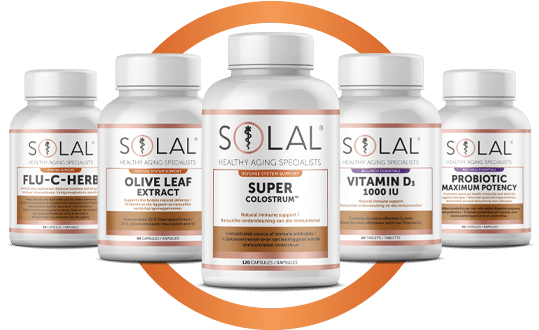 WE ARE THE LEADER IN HEALTHY AGING
SOLAL® knows that an increasing number of people are adopting holistic wellness lifestyles and seeking alternative solutions that go beyond what conventional pharmaceutical medicines can offer.
QualiSafe is unique to SOLAL®, for peace of mind that your family is getting the best quality health and wellness products that money can buy.