SOLAL® BRAIN BOOSTER boosts memory, focus and concentration by enhancing mental alertness, increasing mood and promoting brain health. It ultimately improves mental and physical performance and reduces the harmful effects of stress.
Per capsule:
Eleutherococcus senticosus (Siberian ginseng) [root powder] 100,0 mg;
L-Tyrosine 100,0 mg;
Choline bitartrate providing 58,2 mg Choline 23,1 mg;
Acetyl-L-carnitine hydrochloride 47,1 mg providing Carnitine 40,0 mg;
Ginkgo biloba L. (maidenhair tree) [leaf extract, standardised 24 % flavonglycosides] 25,0 mg;
Vitis vinifera (Grape Seed) [95 % Proanthocyanidins extract] 25,0 mg;
Calcium-d-pantothenate (Vitamin B5) 25,0 mg;
Pyridoxine-5-phosphate20,0 mg providing Pyridoxine (Vitamin B6) 13,7 mg;
Idebenone 9,9 mg;
Methylcobalamin (Vitamin B12) 49,3 µg;
Huperzine A 25,0 µg.
YOU MIGHT ALSO BE INTERESTED IN
Finding the correct products for your needs is the first step. Take our health questionnaire to find the Solal products suggested for you based on your answers.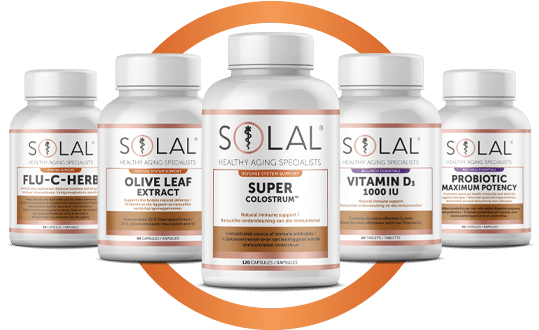 WE ARE THE LEADER IN HEALTHY AGING
SOLAL® knows that an increasing number of people are adopting holistic wellness lifestyles and seeking alternative solutions that go beyond what conventional pharmaceutical medicines can offer.
QualiSafe is unique to SOLAL®, for peace of mind that your family is getting the best quality health and wellness products that money can buy.