Stress Damage Control™ has been scientifically formulated to help individuals deal with stress and the negative consequences of stress. Protects the heart and brain from damage caused by stress and fatigue.
Active ingredients: Rhodiola rosea Extract (3% Rosavin & 3 % Salidroside), Ashwaghanda Standardised Extract, Thiamine Pyrophosphate (Vitamin B1), Alpha Lipoic Acid, Beta-sitosterol.
YOU MIGHT ALSO BE INTERESTED IN
Finding the correct products for your needs is the first step. Take our health questionnaire to find the Solal products suggested for you based on your answers.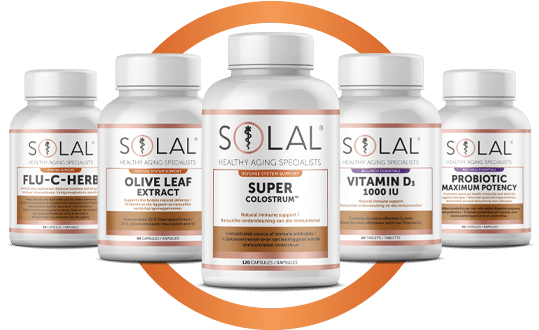 WE ARE THE LEADER IN HEALTHY AGING
SOLAL® knows that an increasing number of people are adopting holistic wellness lifestyles and seeking alternative solutions that go beyond what conventional pharmaceutical medicines can offer.
QualiSafe is unique to SOLAL®, for peace of mind that your family is getting the best quality health and wellness products that money can buy.