INTENSE REPLENISHING MOISTURISER
SOLAL®'s Intense Replenishing Moisturiser is a rich, anti-aging facial moisturiser for dry and mature skin types. It contains powerful actives that assist in hydrating the skin and improving the appearance of wrinkles.
Mediterranean Lavender helps reduce the appearance of wrinkles by relaxing facial muscle contractions. It also helps improve the quality and strength of the skin.
Acetyl Octapeptide-3 helps reduce expression lines.
Palmitoyl Tripeptide-5 assists in boosting collagen production which gives structure to the skin's tissue keeping it firm. It also hydrates the skin.
Hyaluronic Acid significantly hydrates and plumps the skin leaving it supple and healthy-looking. It also assists in the anti-oxidation process by reducing damaging free radicals caused by pollution or radiation.
YOU MIGHT ALSO BE INTERESTED IN
Finding the correct products for your needs is the first step. Take our health questionnaire to find the Solal products suggested for you based on your answers.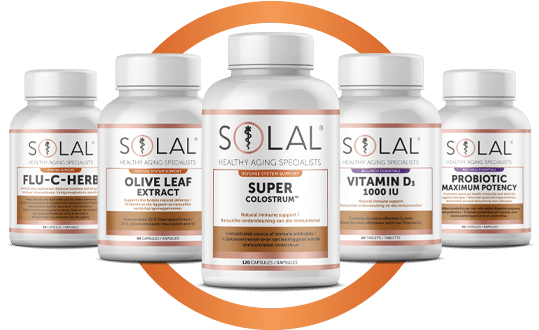 WE ARE THE LEADER IN HEALTHY AGING
SOLAL® knows that an increasing number of people are adopting holistic wellness lifestyles and seeking alternative solutions that go beyond what conventional pharmaceutical medicines can offer.
QualiSafe is unique to SOLAL®, for peace of mind that your family is getting the best quality health and wellness products that money can buy.