SOLAL®'s Vitamin C Serum is a non-greasy, silky anti-aging facial serum which contains ingredients that assist in remarkably improving the surface of the skin for a smoother, more uniform and younger looking appearance.
Stabilised Vitamin C helps protects against UV-induced damage through advanced anti-oxidant technology.
Chromanol is an antioxidant that assists in protecting skin cells from damage caused by free radicals.
Teprenone with anti-aging properties assists in a smoother, more uniform and younger looking skin.
Tripeptide GHK assists in protecting against free-radicals from sun exposure and helps prevent collagen and elastin degradation.
Low molecular weight Hyaluronic Acid assists in hydrating the various layers of the skin.
Hyaluronic Acid significantly hydrates and plumps the skin leaving it supple and healthy-looking. It also assists in the anti-oxidation process by reducing damaging free radicals caused by pollution or radiation.
YOU MIGHT ALSO BE INTERESTED IN
Finding the correct products for your needs is the first step. Take our health questionnaire to find the Solal products suggested for you based on your answers.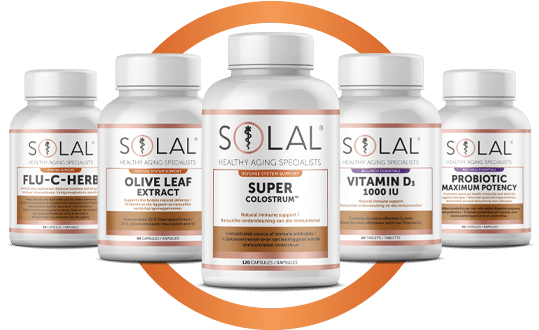 WE ARE THE LEADER IN HEALTHY AGING
SOLAL® knows that an increasing number of people are adopting holistic wellness lifestyles and seeking alternative solutions that go beyond what conventional pharmaceutical medicines can offer.
QualiSafe is unique to SOLAL®, for peace of mind that your family is getting the best quality health and wellness products that money can buy.