SOLAL®'s SPF 30 is a broad-spectrum (UVA + UVB) sun protection facial cream suitable for all skin types. It is silky to the touch and leaves a matt appearance, the ideal base-layer for make-up application.
Melanin a scientifically advanced compound that protects against UVA + UVB and High Energy Visible (HEV) light emitted from computers, cellphones and tablets. It also helps protect against oxidative stress and impairment of the skin's natural barrier.
Hyaluronic Acid significantly hydrates and plumps the skin leaving it supple and healthy-looking. It also assists in the anti-oxidation process by reducing damaging free radicals caused by pollution or radiation.
YOU MIGHT ALSO BE INTERESTED IN
Finding the correct products for your needs is the first step. Take our health questionnaire to find the Solal products suggested for you based on your answers.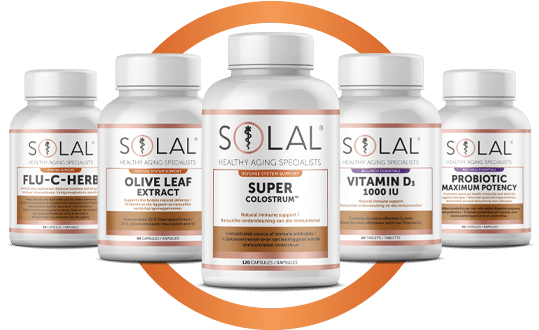 WE ARE THE LEADER IN HEALTHY AGING
SOLAL® knows that an increasing number of people are adopting holistic wellness lifestyles and seeking alternative solutions that go beyond what conventional pharmaceutical medicines can offer.
QualiSafe is unique to SOLAL®, for peace of mind that your family is getting the best quality health and wellness products that money can buy.