SOLAL®'s Skin Cleanser is a concentrated, yet gentle soap-free facial wash. It does not contain skin-drying ingredients. It helps to gently remove make-up and environmental impurities. It is pH-balanced and will therefore not strip the skin of its natural acid barrier, leaving it clean and fresh.
Hyaluronic Acid significantly hydrates and plumps the skin leaving it supple and healthy-looking. It also assists in the anti-oxidation process by reducing damaging free radicals caused by pollution or radiation.
Concentrated formulation therefore only a small amount of product is required to clean the skin, even less product is required with the second wash to optimally rid the skin of impurities. Double cleansing greatly lessens possible blackhead formation and keeps the skin hygienically clean.
YOU MIGHT ALSO BE INTERESTED IN
Finding the correct products for your needs is the first step. Take our health questionnaire to find the Solal products suggested for you based on your answers.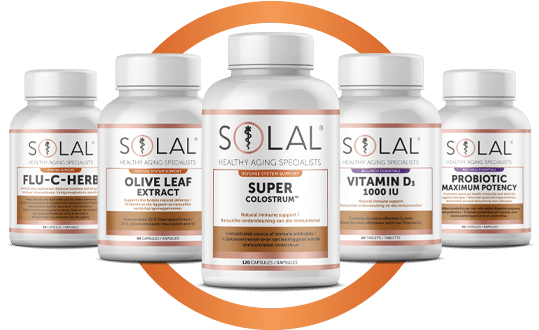 WE ARE THE LEADER IN HEALTHY AGING
SOLAL® knows that an increasing number of people are adopting holistic wellness lifestyles and seeking alternative solutions that go beyond what conventional pharmaceutical medicines can offer.
QualiSafe is unique to SOLAL®, for peace of mind that your family is getting the best quality health and wellness products that money can buy.