Herbal medicinal product (combination of Saffron extract (Saffr'Activ®), St. John's wort extract, L-Theanine, Vitamin B6 (Pyridoxal-5-phosphate) that assists with the symptoms of mild depressive episodes. Improves mood. Boosts brain serotonin.
Each capsule contains:
Hypericum perforatum L. (St.John's Wort) [flowering tops] 300,0 mg;
L-Theanine 125,0 mg; Crocus sativus L. (Saffron extract) [Red stigma extract] 15,0 mg; Pyridoxal-5-phosphate monohydrate (Vitamin B6) 12,5 mg
YOU MIGHT ALSO BE INTERESTED IN
Finding the correct products for your needs is the first step. Take our health questionnaire to find the Solal products suggested for you based on your answers.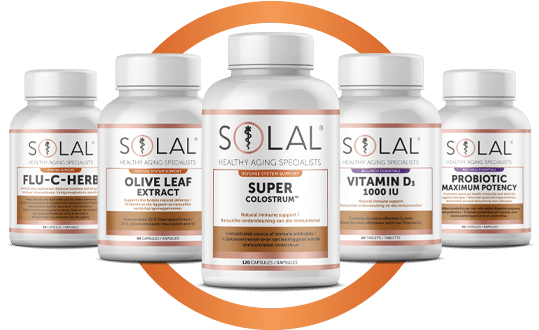 WE ARE THE LEADER IN HEALTHY AGING
SOLAL® knows that an increasing number of people are adopting holistic wellness lifestyles and seeking alternative solutions that go beyond what conventional pharmaceutical medicines can offer.
QualiSafe is unique to SOLAL®, for peace of mind that your family is getting the best quality health and wellness products that money can buy.