A product dedicated to improve skin hydration, moisturisation and alleviate sensitivity. Ideal for any dehydration or dryness in all skin types and ages, skins sensitised from pollution, dull and lifeless looking skin, barrier disturbance.
Carrageenan
Hyaluronic Acid like ingredient captures water on skin surface which improves overall hydration • 3x more efficient than Hyaluronic Acid to hydrate skin
Reduces TEWL (moisture loss from the skin)
Improves skin barrier which is essential to retain moisture Cross linked Hyaluronic Acid
5x more moisturising in stratum corneum than Hyaluronic Acid after 24 hours
Gel structure on surface that holds water to deliver over time Heptapeptide-34
Messenger molecules that increase hydration and luminosity
Circumvents negative effects of pollution and UV
Reduces appearance of age induced erythema
Restores youthful vitality
Biosaccharide gum
Soft touch sensorial aspects
Soothing, moisturising
Skin comfort and softness booster
Relieves sensitive skin
Pro-longed moisturising effect that compliments Hyaluronic Acid
Jojoba oil
Pure high quality, non-greasy oil with omega 9 fatty acids/esters that is identical to human sebum
Lipids for intercellular areas to repair the skin barrier
Intense moisturisation
Seals in moisture
Restores skin barrier
YOU MIGHT ALSO BE INTERESTED IN
Finding the correct products for your needs is the first step. Take our health questionnaire to find the Solal products suggested for you based on your answers.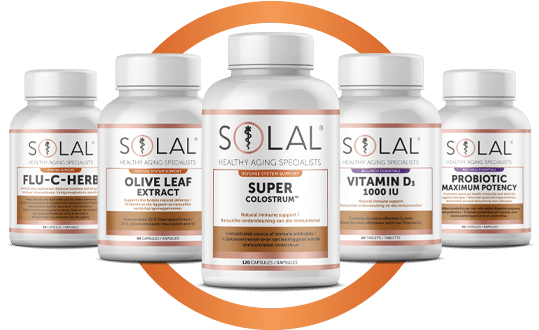 WE ARE THE LEADER IN HEALTHY AGING
SOLAL® knows that an increasing number of people are adopting holistic wellness lifestyles and seeking alternative solutions that go beyond what conventional pharmaceutical medicines can offer.
QualiSafe is unique to SOLAL®, for peace of mind that your family is getting the best quality health and wellness products that money can buy.