SOLAL'S HAND AND NECK SERUM is a unique 2-in-1 serum specially formulated to improve the quality of the often neglected skin on the hands and neck area which are more fragile and susceptible to losing firmness at an accelerated rate. This concentrated serum improves and preserves the skin's elasticity helping to firm, plump, smooth and tone for a more youthful appearance, while also providing an extra layer of protection from environmental aggressors to these over-exposed areas.
This serum contains these key ingredients: Micro-Encapsulated Retinol stimulates cell renewal and protects against free radicals thus helping to reduce photo-aging. The controlled time release of the active ingredient ensures prolonged bio-availability of retinol which increases its efficacy with less skin irritation.
Micro-Encapsulated Vitamin C helps to reduce age spots and minimize signs of premature aging. Encapsulation of the key ingredients improves effectiveness. Natural Peptide helps to smooth and plump skin and creates a micro-network to reduce the appearance of wrinkles and lines instantly for dramatically younger looking skin.
YOU MIGHT ALSO BE INTERESTED IN
Finding the correct products for your needs is the first step. Take our health questionnaire to find the Solal products suggested for you based on your answers.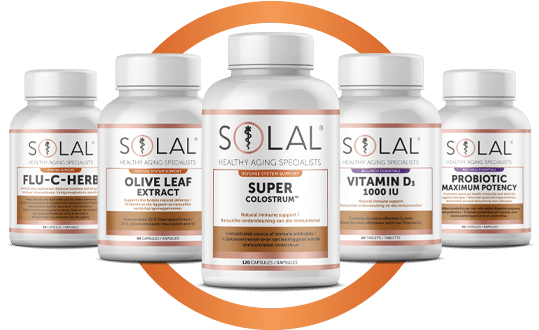 WE ARE THE LEADER IN HEALTHY AGING
SOLAL® knows that an increasing number of people are adopting holistic wellness lifestyles and seeking alternative solutions that go beyond what conventional pharmaceutical medicines can offer.
QualiSafe is unique to SOLAL®, for peace of mind that your family is getting the best quality health and wellness products that money can buy.